"When I'm not illustrating, I like to furnish my apartment, go for a walk or do yoga."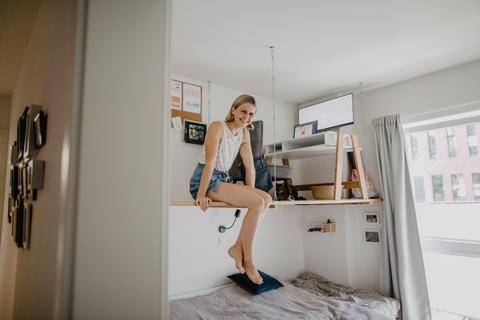 According to her own statement, Jana Mossmann is in her early 30s, lives and works in beautiful Hamburch.
Jana lives and loves what she conveys with her illustration.
"For me, living and living have to go together. It has to be functional and everything has its place, but it must not appear full. In a mixture of old and new, combined with light colors. Gladly pastel colors with highlights."
Everyone has this special piece of furniture and little things, including Jana.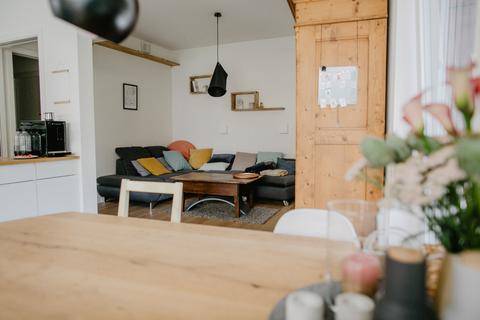 Jana answers the question about her personal favorite pieces of furniture without having to think twice.
"Actually, I have several favorite pieces of furniture. One of them is the old wooden cupboard that my mum bought from her first salary and that I have known since childhood. It was used as a wardrobe, sometimes as a pantry, and now it has space for many files and org and the printer. Another favorite piece of furniture is the antique coffee table that came from an antique market in London. "
The question of Jana's favorite place is also not difficult for her. Jana combines a place of retreat and workplace with a brilliant idea.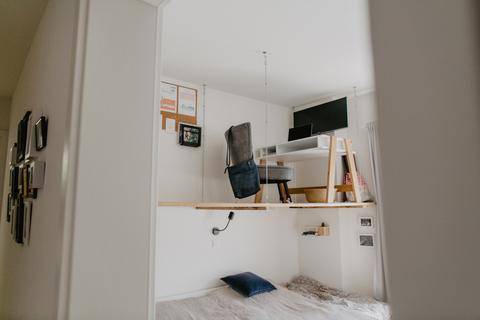 "Definitely my" high office ". This is a 3-4 square meter platform, which we have attached to the ceiling of our bedroom with 6 hooks. My desk and my small chest of drawers and armchair are on it. I love to retreat here, here to work and think of new projects. "
Of course, we were interested in where Jana gets inspiration for her apartment and of course her great designs.
"I like to look around, whether in interior magazines, on Instagram or even in small decoration shops. In Hamburg, London, Copenhagen or wherever we are on vacation. I always like to take a new little highlight with me from my vacation .

We often create new furniture / new decorations as required. Our toothbrush tumbler, for example, hangs on the ceiling because I found it impractical to brush underneath. And our cats go into a Swedish dresser for your business. The self-made shelves on the wall also serve as a cat ladder. "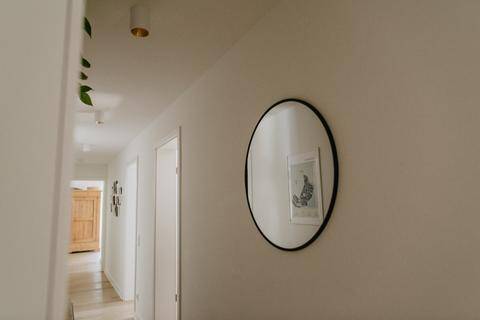 Of course, Jana's own prints from the SOLT UN PEPER store shouldn't be missing either.
Which designs did Jana choose?
"Now there are quite a few. ;-) It hangs in the living room Wall calendar in A3, and my "Paris" Poster. In the bedroom the "Oui Cherie"Poster and in the two children's rooms we have the panda bear with the ice cream ("Panda pink") And the three ballerinas ("Ballerina") hang. "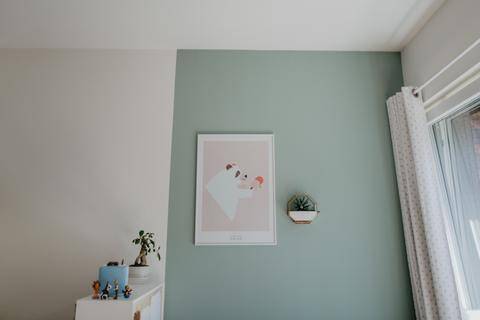 "Since we were on a road trip through France this summer, the" Paris "poster and" Oui Cherie "fit perfectly. The children's room prints are personalized with the names and dates of birth of our daughters, which made them both very proud."
What should not be missing to make Jana's home a cozy focal point:
"My husband, our two daughters and our two cats make my home my cozy focus.

There has to be space for everyone, we also like to have lots of visitors, but everyone also has their own personal retreat.

We like to come together at our round dining table, which offers space for 12 people, but can also be easily reduced in size. "
Finally, we wanted to know what Jana would like to do in the most beautiful city in the world ... our Hamburch ...
"I love walks. We like to walk along the canal around the Outer Alster or into the city center."